Choosing the Perfect Wedding Dress
Hello friends!
In January I went to choose my wedding dress and I am glad to inform you that I found the perfect one! Pictures will follow after my wedding in August.
I thought it would be fun to share some tips for other future brides, who still have to go and choose their dream dress.
I went to Breda in the Netherlands, because they have a couple of wedding boutiques fairly close to each other. I am also quite tall, so I thought I would have a better chance of finding a wedding gown and shoes in my size than in Belgium.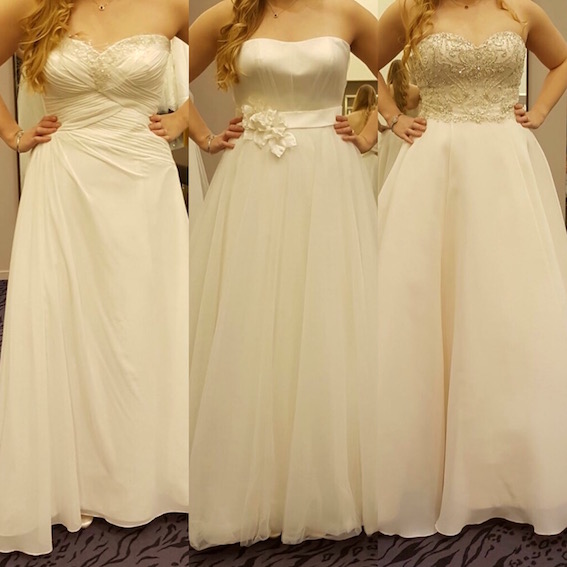 Here are the tips that I can give you from my experience:
I would try to go shopping for your wedding dress at least half a year in advance. I went in January and my dress will be in the shop for my first fitting in June. After that I will have one more fitting before my wedding in August. Be sure to communicate your wedding date.


Keep in mind that you have to make an appointment to try on the dresses. An appointment can take up to two hours, so be sure that you have plenty of time.


Check some wedding magazines, websites or Pinterest to have an idea of the type of dress you want. Take them with you to your appointment. This way they can help you more efficiently to find exactly what you want.


Take people with you that you can trust to say their honest opinion. You need someone to be honest when a gown does not flatter your body type or just isn't pretty. I took my mother and my two best friends with me.


Take more than one person with you. This way you will have more than one opinion.


If it's allowed, take pictures of the dresses, so you can see them next to each other and compare. You want to be picture proof. Please note that in some stores they do not want you to take a picture unless you agree to buy the dress.


Make sure to wear decent underwear, because you will have to undress before the lady from the store who will be helping you.


Be sure to tell the store clerk what your budget is. This way they will not present dresses that are too expensive for you. Nothing worse than having found the perfect gown and then figuring out that you cannot pay for it.


When you decide on your budget keep in mind that you will also need underwear to wear under your dress, shoes, accessories, etc. The dress is just one of the costs. Also ask them how much the alterations will cost.


You will most probably have to have to pay a deposit in the store when you agree to buy the dress.


When you have found THE dress ask them to take pictures from the front and the back. This way you can show the hair dresser how you want your hair. For example, if you have a beautiful lace back on your dress you will want a hairdo that will show off this beautiful feature. You can also use these pictures to make sure that your accessories, but also the suit of the groom and maybe the bridesmaids' dresses will compliment your dress.


Some gowns have a long skirt that goes over the ground. If you want to be able to dance at your wedding party be sure to ask the store clerk if there is a way to keep the skirt from touching the ground. Most of the time there is a button to which you can attach part of the skirt or an elastic, which you can put on your arm.


When buying your wedding dress you will have to sign a contract. Make sure that you read all the conditions. You will not get your money back when you get pregnant and it doesn't fit anymore or when your wedding get's canceled.


Also ask them what the best way is to get in the dress and how to go to the toilet with the dress. Take someone with you when they explain this. This way this person can help you to get dressed on your special day.


My last piece of advice is to take your time. This is the most important dress you will ever wear. Do not take this choice lightly.


I hope my tips were helpful. Feel free to share your own experiences or ask questions in the comment section below.


Xxx Lauren
(P.S.: None of the dresses pictured above are the dress, which I chose for my wedding day).